SUBSIDIARIES AROUND THE WORLD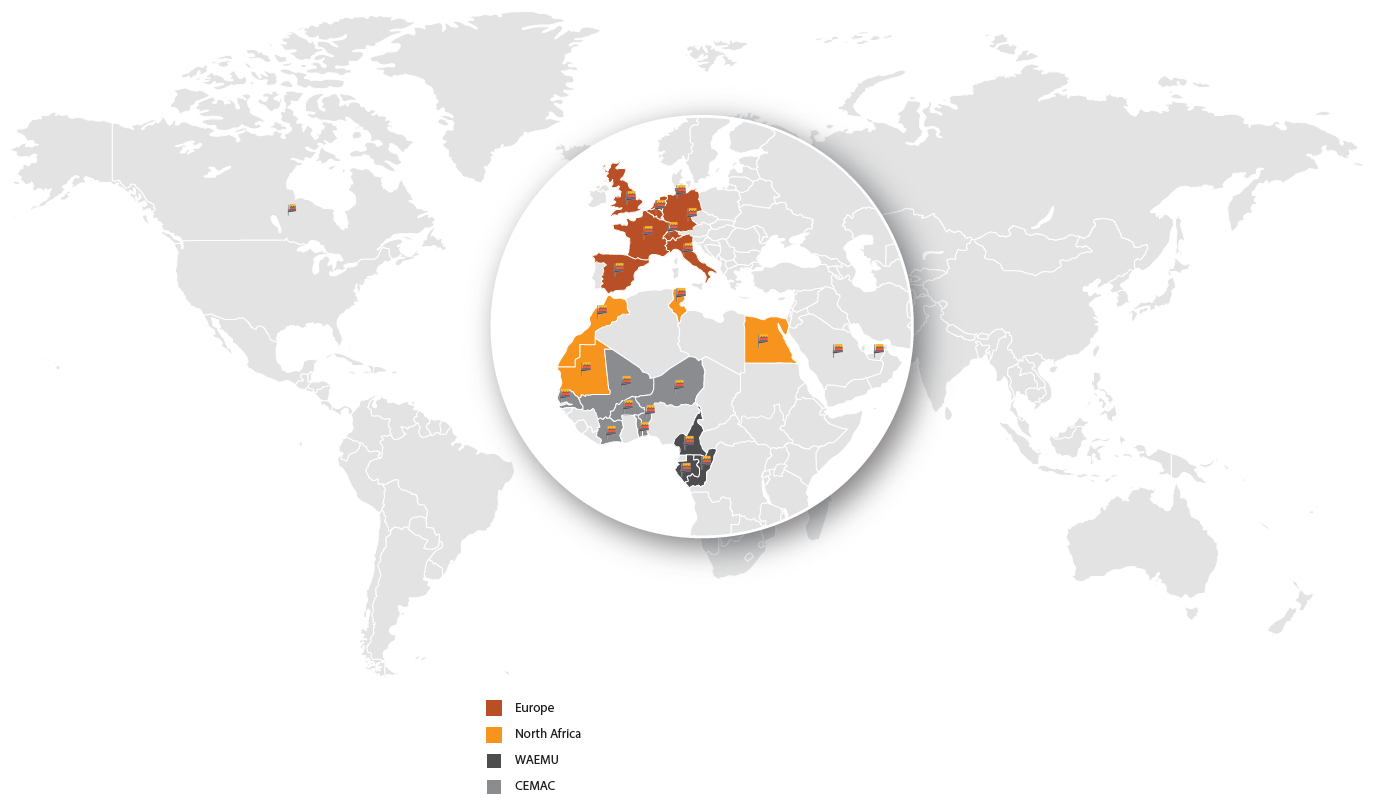 Attijariwafa bank Europe

Based in Paris, Attijariwafa bank Europe is a French banking subsidiary with a legal and social status to deploy its activities in the European Union. Attijariwafa bank Europe operates in France, Belgium, Germany, Netherlands, Italy, Spain, England and Switzerland through 64 branches.

http://www.attijariwafa.net

Attijari bank Tunisie (ABT)

Acquired in 2005, Attijariwafa bank Tunisia is the 6th largest bank in Tunisia with TND 6.0 billion of outstanding customer loans and TND 488.2 million of Net Banking Income as of 31 December 2020. With its 204 branches, ABT has the largest network in Tunisia.

Compagnie Bancaire de l'Afrique de l'Quest (CBAO)

CBAO represents the second largest subsidiary in Africa. It operates in Senegal with a market share of 13.4% as of 30 June 2020 with a leading position in the banking and financial sector of the region. CBAO accounts for 94 branches (including Burkina Faso, Niger and Benin).
Through CBAO, Attijariwafa bank Group launched banking activities in Burkina Faso (2010), in Niger (2013) and in Benin (2015)

Crédit du Sénégal

A subsidiary of the Group since 2008, Crédit du Sénégal has 8 branches. It offers a wide range of products and services and operates in two business lines: retail banking and corporate banking with a market share of 2.6% as of 30 June 2020. Commercial and technological innovation is the core of Crédit du Sénégal's development strategy.

Banque Internationale pour le MALI (BIM)

Acquired in 2009, BIM is located in MALI and has 6.4% market share as of 31 September 2020. The Malian subsidiary is the fifth domestically in terms of lending and has a network of 73 branches.

Union Gabonaise de Banque (UGB)

Owned by Attijariwafa bank since 2009 with a share of 58.71%, UGB holds the 2nd position within the banking sector in Gabon with a customer loans market share of 15.2% as of 31 September 2020. 

Crédit du Congo (CDC)

Acquired in 2009, CDC ranks 3rd in Congo with a 10.6% loan market share.

Société Ivoirienne de Banque (SIB)

SIB is ranked 2nd in Ivory Coast with a 10.6% loan market share. At the end of December 2019, SIB's network had grown to 67 branches

SCB Cameroon

Acquired since 2011, the Cameroonian subsidiary is ranked fifth with a loan market share of 9.5%.

Attijaribank Mauritania

Attijariwafa bank operates in Mauritania through its subsidiary acquired in 2011. The Mauritanian subsidiary holds a loan market share of 9.8%.

Banque Internationale pour l'Afrique (BIA-Togo)

Acquired in 2013, BIA holds 5,2% of loans market share in Togo.